Newly Released Documents Show Doug Ford Lied About Legal Aid
August 11, 2019
Back in April, after almost "hitting three telephone poles," Doug Ford called into a Toronto radio station to defend the government's cuts to the legal aid system. The boiling public backlash seems to have gotten under his thin skin and at the end of that impromptu call Ford said that, "if anyone needs support on legal aid, feel free to call my office. I will guarantee you that you will have legal aid."    
New information, released under a Freedom of Information request, shows that Ford never had any intention of following through on his legal aid guarantee.
But first some recent history. In the days before Ford's frantic radio call-in, the Ontario government had just slashed funding to Legal Aid Ontario (LAO) by 30 per cent. To make matters worse, the $133 million cut took effect immediately – there was no advanced notice – despite the fact that LAO's 2019 budget had already been finalized. And on top of it all, the province directed LAO that no provincial money at all could be used to cover immigration and refugee law, meaning that vulnerable immigrants and refugees would face deportation hearings without any legal counsel.
Ultimately, the scope of Ford's cruel cuts stretched well beyond immigration hearings. Community legal clinics, which provide assistance to some of Ontario's most marginalized people, were forced to roll-back services and close offices. Funding for indigenous specific sentencing submissions was slashed by more than 50-percent. And rollbacks to criminal court services sparked a crisis in the justice system.  
More and more people who can't afford a lawyer are being denied legal aid. This is the context in which Doug Ford guaranteed that those people who need legal aid "will have legal aid."
And this week, in response to continued questions by the Huffington Post's Emma Paling, Ford doubled down on his guarantee saying the he would "continue to help anyone who calls."
But internal government emails reveal that, despite his promises, Ford has not actually helped anyone.
On April 23, the day after Ford first made his legal aid promise, I wrote to the premier to inquire how my clients, who are in desperate circumstances but have been denied legal aid, could take advantage of his personal guarantee. I received no response.
So, over the following 100-days I wrote more than 40 letters to the premier and Attorneys General Caroline Mulroney and Doug Downey.
It was a one-way pen pal relationship. I never heard back from Doug Ford.
Ford may not have responded to any of my letters but the Ministry of the Attorney General (MAG), then lead by Caroline Mulroney, immediately took notice.
View fullsize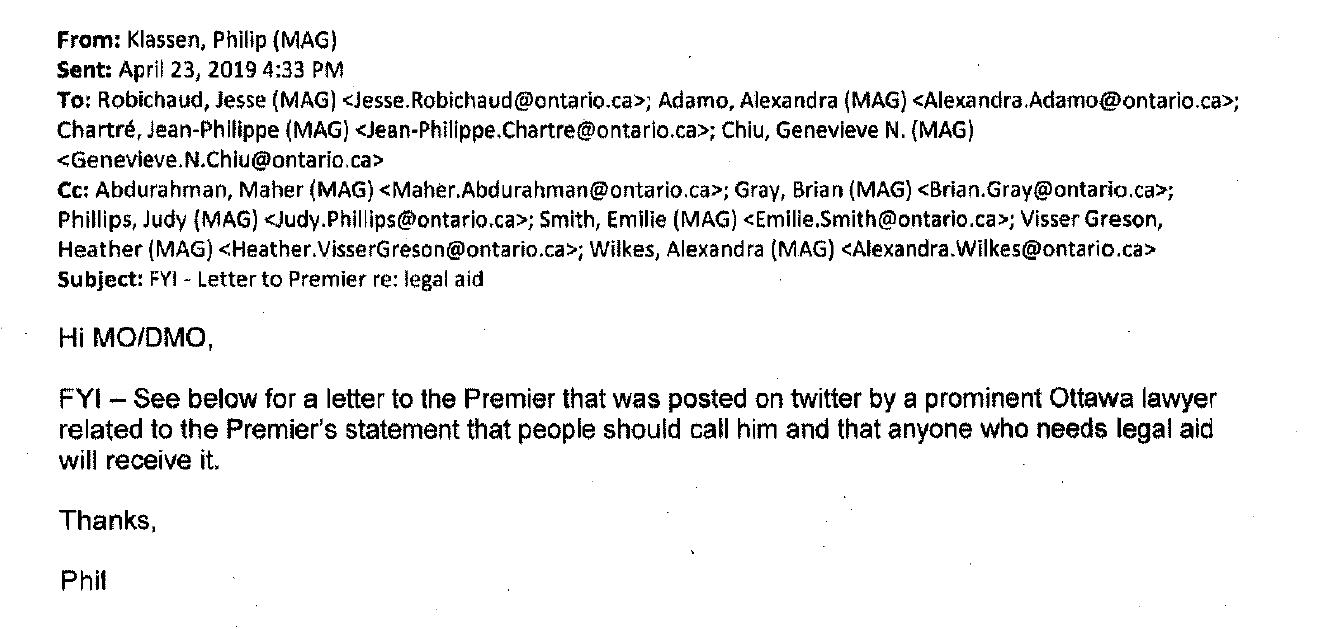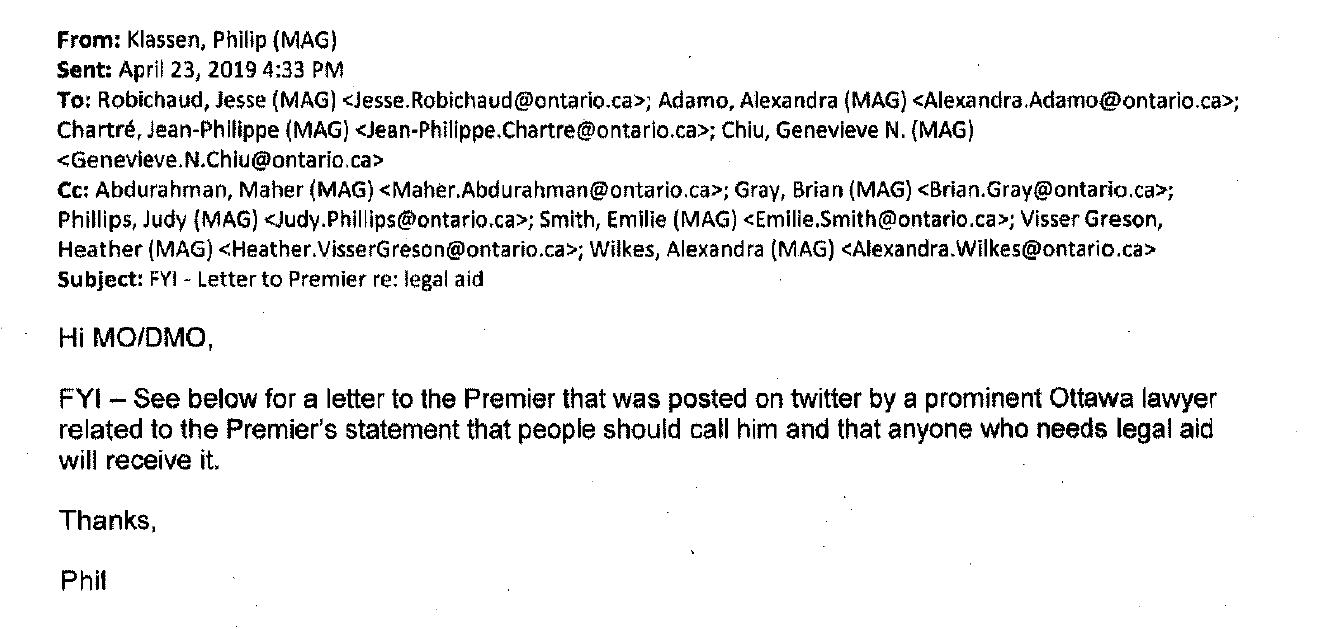 On April 23, the day I wrote the first letter, senior team lead at MAG, Philip Klassen wrote to Caroline Mulroney's director of communications, Jesse Robichaud, her press secretary, Alexandra Adamo, her issues management advisor, Jean-Philippe Chartré, her legal counsel, Genvieve Chiu, and a team of media relations personal alerting them that a "prominent Ottawa lawyer" had written to the premier about his "promise that anyone who needed legal aid will receive it."
View fullsize
Seven days later, issues and media relations officer Maher Abdurahamsn sent a follow up email alerting the team that it "seemed like Mr. Spratt is still going strong."
 You can bet your ass I was.
View fullsize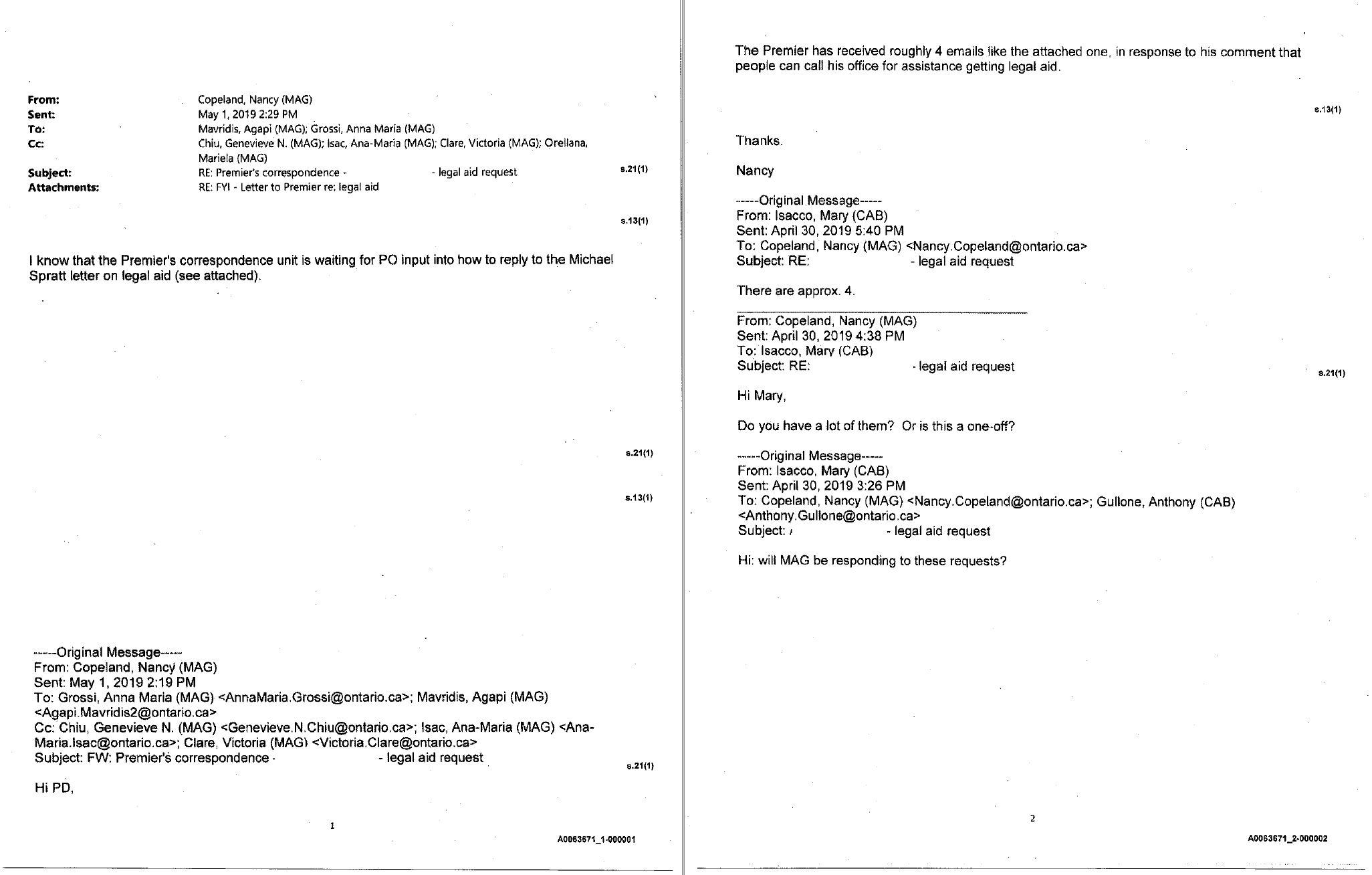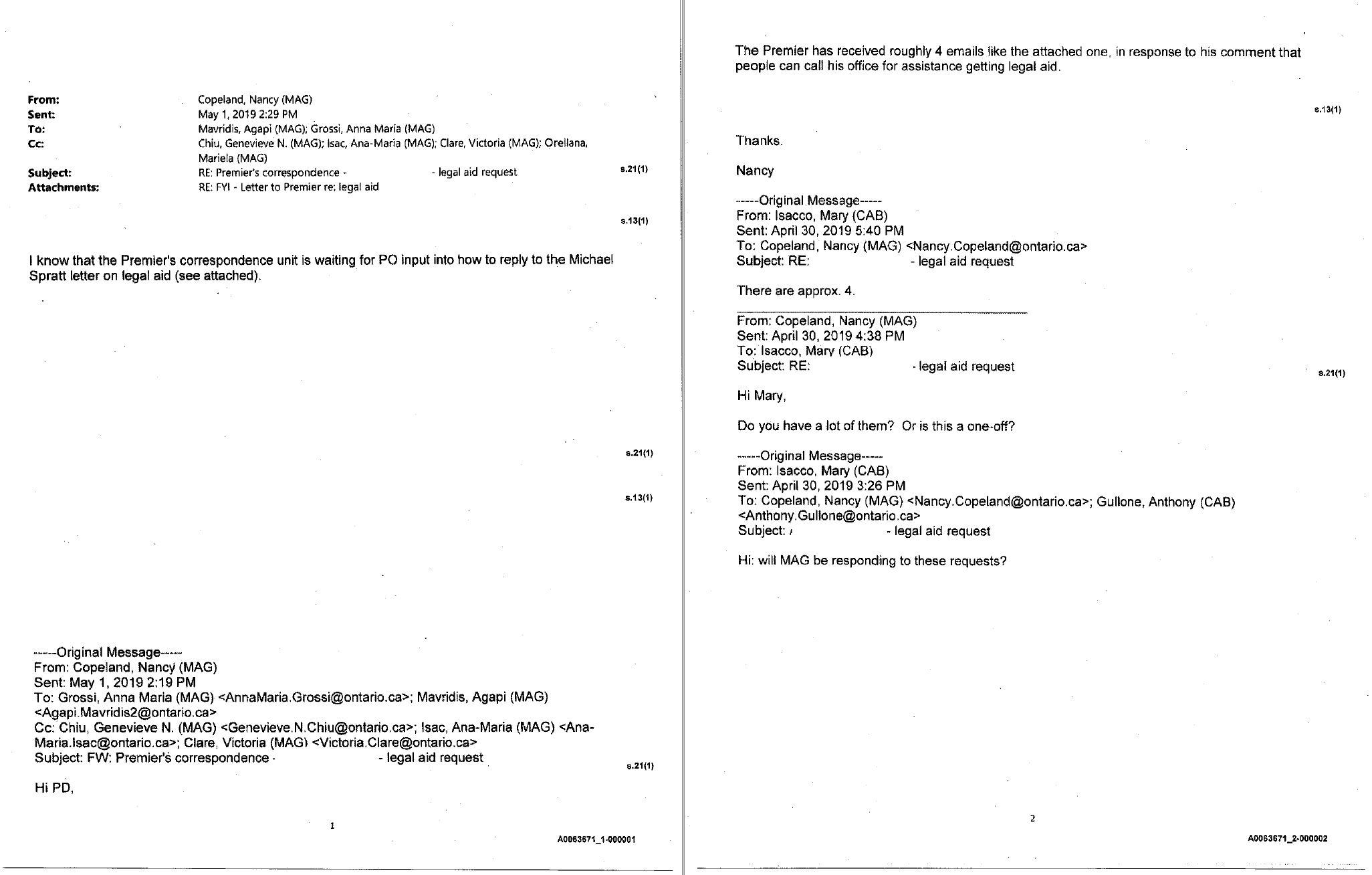 It appears that Ford was not expecting anyone to actually take him up on his legal aid promise. Over a week after his call to the radio station, the premier's correspondence unit was still "waiting for input" on how to reply to my letters.
But my request was not, as the Attorney Generals' team noted, a "one-off." It turns out Ford received at least half-a-dozen letters about his promise. 
Ford Passing The Buck on his guarantee
View fullsize
On April 29, the premier received a letter from a constituent seeking help because they were denied legal aid and could not afford a lawyer. Despite his personal guarantee, Ford responded that the issue was not in his "area of responsibility" and shuffled the inquiry to Mulroney.
View fullsize
The next day Ford received another email from someone "in desperate need of legal aid." Ford again responded that this request fell outside his area of responsibility and forwarded the request to the Attorney General.
View fullsize
Another emailer implored Ford for help saying, "You said no person would ever be without help and I am hoping that you will be able to help me." Ford did not provide any help and again passed the request to Mulroney.
NO government interference With Legal Aid
View fullsize
And what was the Attorney General's response to these pleas for help? Mulroney wrote that she could not provide any assistance, including "speaking with LAO staff on your behalf to secure a certificate" because LAO operates "independently and without government interference."
The heavily redacted government emails also show that in one case an immigrant or refugee wrote to Ford because they were denied legal aid. This time Ford, after expressing sympathy about the situation, suggested that any immigration related issues should be addressed to the Federal Minister of Immigration and Refugees and Citizenship, Ahmed Hussen. 
View fullsize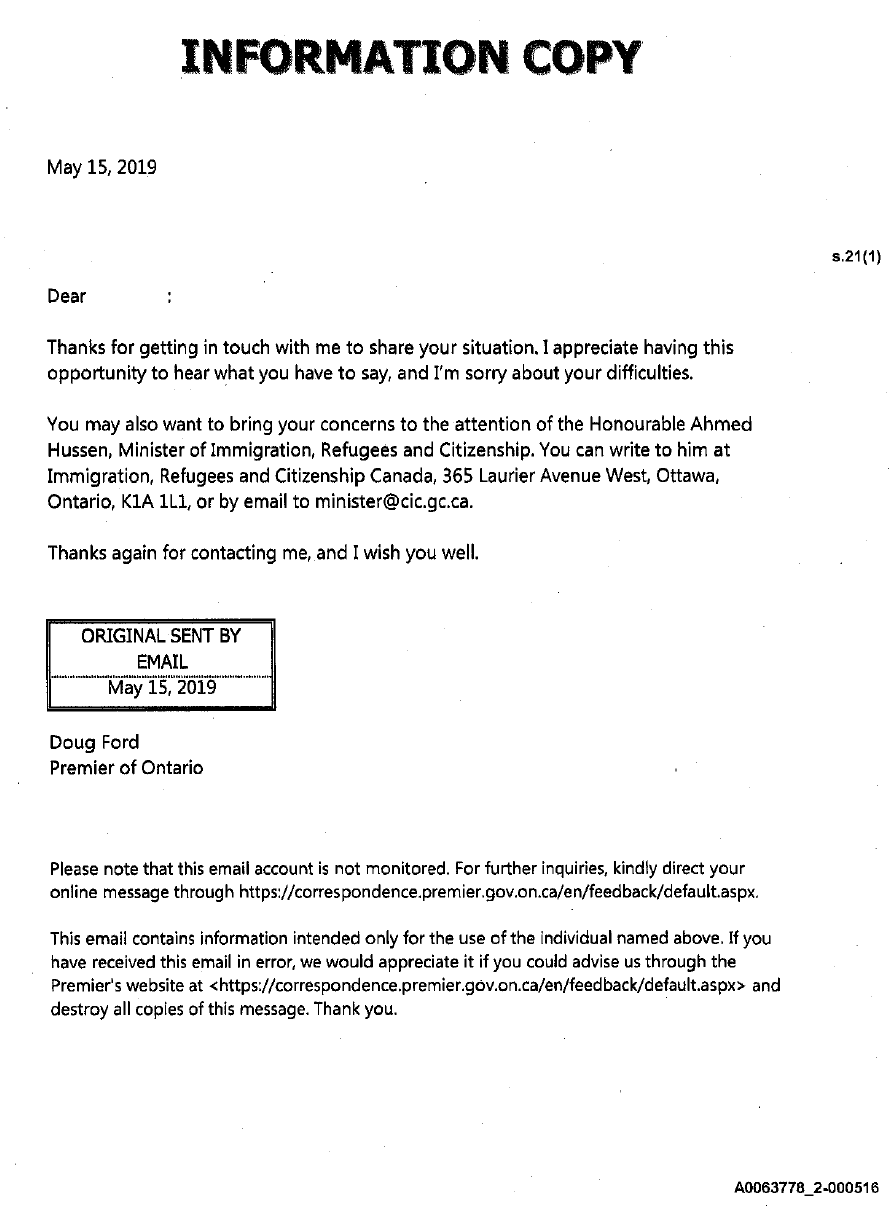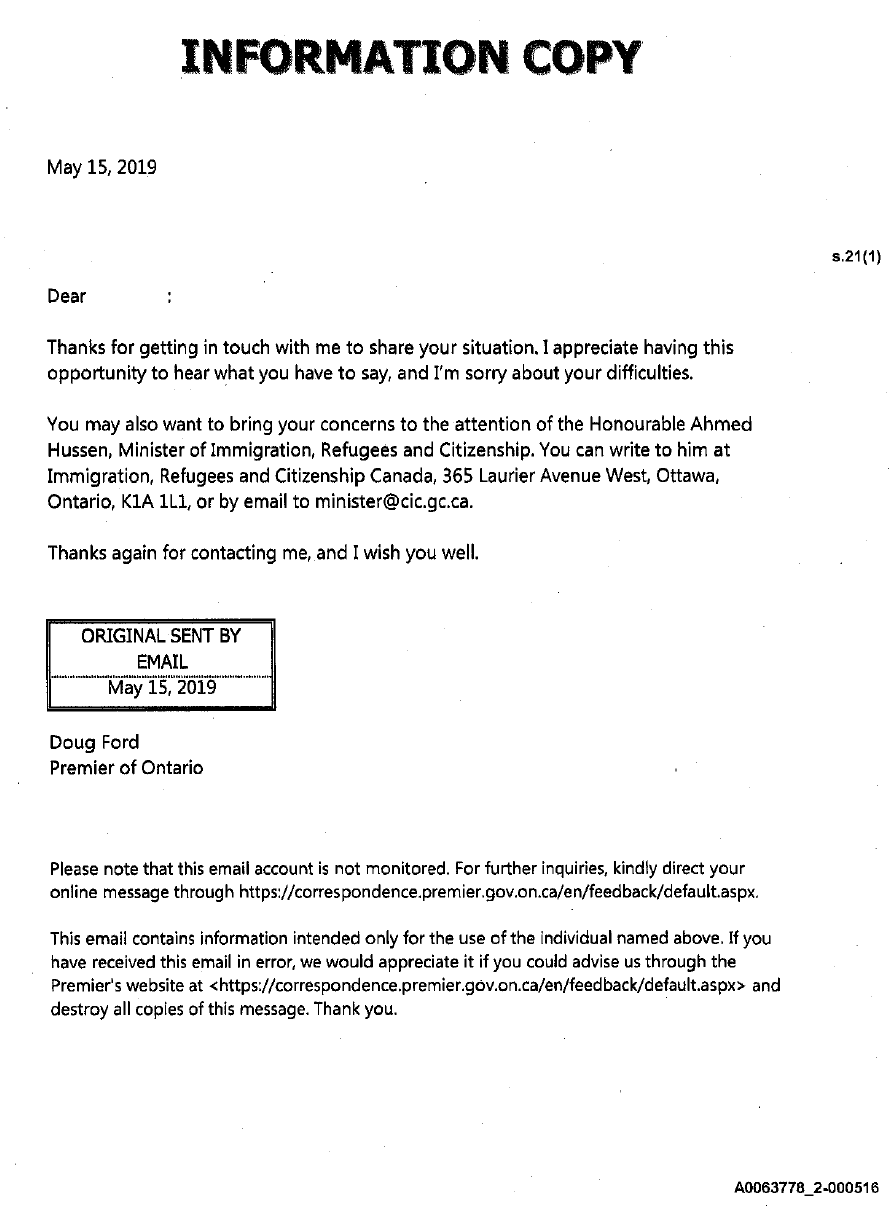 Promises Made, Promises Broken
Ford promised that anyone who needed legal aid would get it but government documents show that no one who contacted Ford received legal aid or assistance of any kind. Those same documents show that no one in the Ford government even had the power to intervene with LAO's decisions.
Pick your poison, either Ford was so utterly incompetent that he made a promise he was incapable of keeping and then made it again or he is purposefully misleading the public to distract from his deeply unpopular legal aid cuts.
Ford promised that anyone one who needed legal aid would get it. All they had to do was call him. And then, when people contacted him, he said it was not his problem and passed the buck.
And when the Attorney General received that buck she said that LAO was independent so they could not provide any help either.
And despite all of this, Ford doubled down on his disingenuous promise.
A promise he was powerless to fulfil.
 A promise that he never had any intention of keeping.
 A promise that has now proven to be pure political hucksterism.
 A promise that proves Ford to be liar.