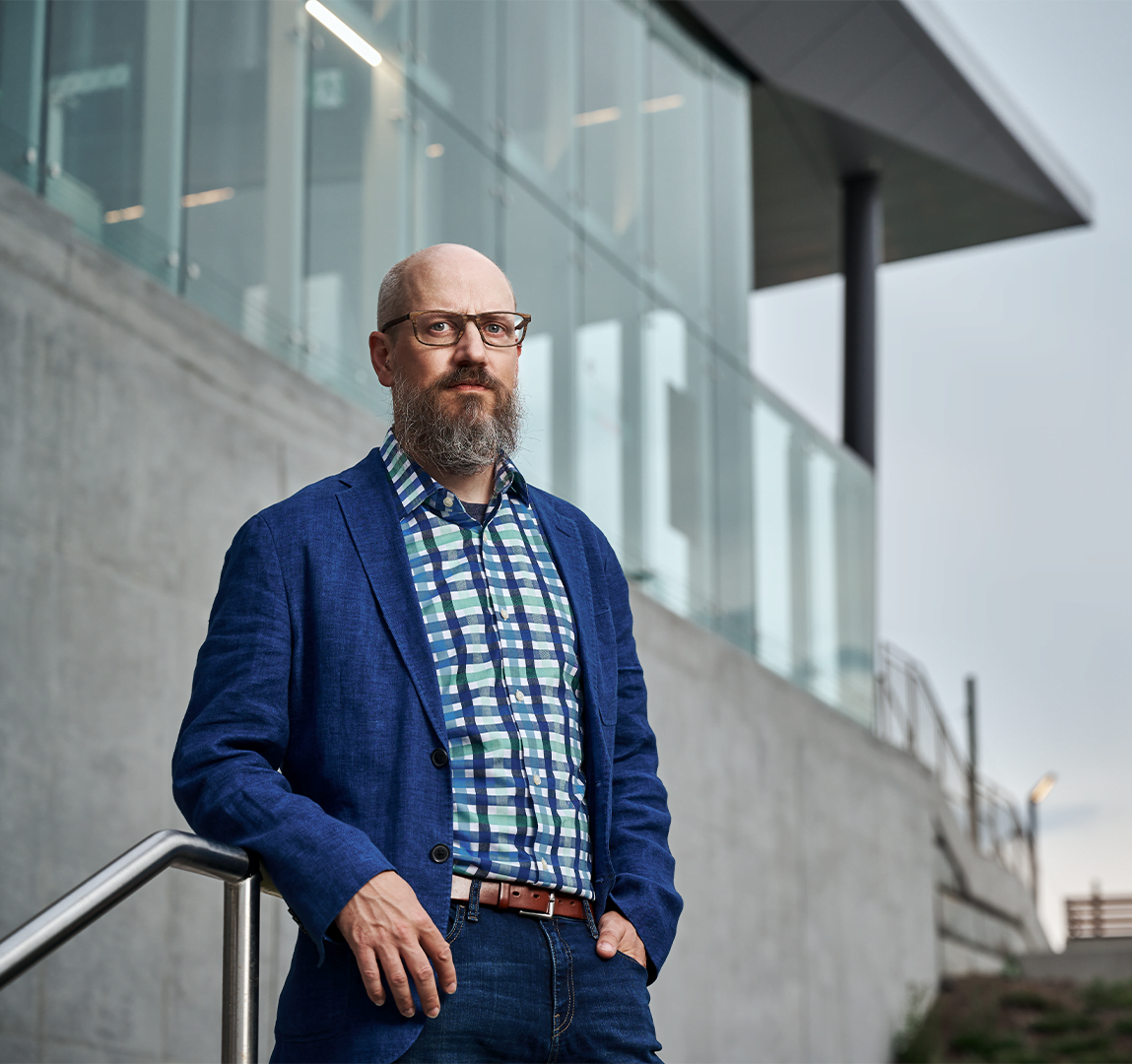 Biography
Michael is a certified criminal law specialist and partner at the boutique Ottawa criminal law firm AGP Law. He received a B.Sc. (Hon) in Biology and Environmental Science from McMaster University in 2001.  Michael attending law school at Dalhousie University and articling at one of Toronto's premier criminal law firms. With over 19 years experience, Michael has developed a reputation as a top criminal defence lawyer. Michael is a member of the law societies of Ontario and the North West Territories.
Michael is a certified criminal law specialist and partner at the boutique criminal law firm AGP Law. The firm has thrived since its inception and is regarded as one of Ottawa go-to criminal law firms.
Michael has appeared in the Supreme Court of Canada, the Ontario Court of Appeal, the Superior Court of Justice, and the Ontario Court of Justice and is certified by the Law Society of Ontario as a criminal law specialist.
Michael has been described as a 'brilliant lawyer' in Canada's House of Commons and he frequently appears as an expert witness before the House of Commons and the Senate, providing evidence on criminal-law policy and legislation.
In 2018 Michael was awarded a Senate 150th Anniversary Medal for his assistance in helping "craft some of the most complex pieces of Canadian policy and legislation."
For 4 years running, Michael has been named to the exclusive Best Lawyers list as a criminal law specialist. Michael has also been selected as one of Canada's Top 25 Most Influential Lawyers in 2020 by the prestigious publication Canadian Lawyer.
Michael is an award winning writer and his podcast The Docket (which he co-host with his spouse Emilie Taman) has won numerous awards including the Canadian Law Blog's top Fodden Award.
Michael is a regular columnist at Canadian Lawyer Magazine and is frequent contributor to various publications including, iPolitics, the National Post, the Ottawa Sun, the Ottawa Citizen, and the CBC.
Michael has served as a director of the Criminal Lawyers' Association. He later served as a treasurer, and vice-president, of the Defence Counsel Association of Ottawa. He has been a guest instructor at the University of Ottawa law school, Carleton University, and Algonquin College and has presented at numerous professional education conferences.
In 2022, Michael was called to the bar in the North West Territories to assist in important access to justice issues in the North.
Below is a brief summary of some of Mr. Spratt's professional activities:
Boards
Canadian Lawyer Magazine – Editorial Board (2022 – present)
DCAO – Vice President (2015-2016)
DCAO – Executive (Director) (2014-2015)
DCAO – Executive (Treasurer) (2012-2014)
CLA – Board of directors (2009-2011)
Committees
Law Society of Ontario, Duty Counsel (2023 – present)
Legal Aid Ontario, Exceptions Committee (2021-present)
CLA Legislation Committee (2009-present)
100 Interns mentor 2020-2021
Supervising Lawyer Pro Bono Students Canada (PBSC) 2019-2023
DCAO & Law Foundation – Young Lawyers Conference – Ethics, Civility and Advocacy – Planning committee (2010-2016)
Ottawa Inmate Suit Exchange Program (2013-2016)
Youth Justice Court Committee (2012-2016)
Ottawa Bail Committee (2012-2016)
OPS Joint KGB advisory Committee (2012)
CLA Membership Committee (2011)
CLA Retainer and Professional Responsibility Committee (2010, 2011)
Awards and Recognition
2024 Best Lawyer
2023 Best Laywer – Lawyer of the year
2022-2023 Canadian Lawyer, Top 5 Criminal Law Boutiques
2022 Best Laywer
2021 Best Laywer
2020 Clawbies Hall of Fame Inductees
2020 Best Laywer
2020 Canadian Lawyer Magazine: Top 25 Most Influential Lawyers
2018 Senate 150th Anniversary Medal
2018 Fodden Award for Best Canadian Legal Blog
2017  Canadian Law Blog Awards
2016 Canadian Law Blog Awards
2014 Canadian Law Blog Awards
Teaching/Education
Pannelist – Ontario Court of Justice East Regional Seminar – Trauma-Based Trials (2023)
Presenter – Legal Aid Conference (2023)
Pannelist – Canada Wide Bail Symposium – Windsor Law (2023)
Senior Mentor – DCAO Young Lawyers Conference (2023)
Presenter – National Judicial Institute, Judges and Jails Conference (2023)
Presenter – National Judicial Institute Ontario Court of Justice East Regional Seminar (2022)
Guest Instructor – Grade 12 Law, Notre Dame High School (2022)
Guest Lecturer – Grade 12 Civics, Colonel By Secondary School (2022)
Judge – Appellate Advocacy CML2101 (2022)
Mentor – Pro Bono Students Canada (2022)
Guest Lecturer – Algonquin  College Police Foundations Program – Canadian Justice System  (2021)
Guest Lecturer – Ottawa District School Board – Career Connections (2021)
Capital Cup – Moot Judge (2021)
Guest Instructor – Algonquin College –  Victimology Program (2020)
Panelist – Policing The Pandemic in Ottawa: Impacts and Alternatives – Criminalization Punishment Education Project (2020)
Panelist – Inside Ottawa's Jail – Criminalization Punishment Education Project (2020)
Panelist – DCAO/CCLA Defence Lawyer Conference – Sexual Assault Panel (2019)
Guest Instructor – Ottawa University School of Law – CML 1105A: Legal Ethics and Professional Responsibility (2019)
Panelist – Canadian Bar Association – Northwest Territories Conference (2019)
Panelist – National Judicial Institute – Criminal Law Seminar (2019)
Guest Instructor – Ottawa Law School – CML 1105C Youth Justice: Theory and Reality (2019)
Panelist – Runnymede Society 2019 Law & Freedom Conference – Debate on the #MeToo movement and its effects on the presumption of innocence (2019)
Panelist – CLA 46th Annual Fall Conference – Legalization of marijuana and what is going to happen moving forward (2018)
Panelist – DCAO/CCLA Defence Lawyer Conference – Marijuana Legalization: Bill C-45 (2018)
Presenter – DCAO Trial Book CLE – Hearsay Evidence (2018)
Panelist – Ontario Justice Education Network – Youth Police Dialogues (2018)
Panelist  – CLA Spring Conference –  Mental Health: Staying Sane in this Crazy Business (2018)
Panelist – Conference Board of Canada – Mental Health in the Capital (2018)
Guest Instructor – Ottawa Law School – CML1203A: Criminal Law and Procedure (2018)
Guest Instructor – Ottawa Law School – CML3301: Advanced Evidence (2018)
Guest Instructor – Ottawa University School of Law – CML 1105A: Legal Ethics and Professional Responsibility (2017)
Speaker – Criminalization and Punishment Education Project – A Bigger Jail for Ottawa or Community Alternative (2017)
Guest Instruction – Carlton University – SOCI 2450: Criminology (2017)
Panelist  – CLA Defence Lawyer Conference –  Marijuana Legislation (2017)
Panelist  – DCAO/CCLA Defence Lawyer Conference –  Power Imbalances and Ethics in Plea Bargaining (2017)
Guest Instructor – Ottawa University School of Law – CML 1105A: Legal Ethics and Professional Responsibility (2017)
Guest Instructor – Algonquin College – Police and Public Safety Institute (2017)
Panelist – Justice Canada Knowledge Exchange 2017: The criminal justice system's responses to sexual assault against adults (2017) 
Guest Instructor – Carlton University – SOCI 2450A: Criminology (2017)
Facilitator – Ottawa University School of Law – CML3174W: Dean's Legal Research and Writing Fellowship (2016)
Guest Instructor – Ottawa University School of Law – CML1103: Criminal Law and Procedure (2016)
Guest Instructor – Ottawa University School of Law – CML1203: Criminal Law and Procedure (2016)
Guest Instructor – Algonquin College – 1611X01FWO: Victimology Program (2014)
Guest Instructor – Ottawa University School of Law – 1203F: Criminal Law and Procedure (2014)
Guest Instructor – Carleton University – SOCI 3410B: Challenges Facing Police in the 21st Century (2014)
Guest Instructor – Ottawa University School of Law – Evidence (2013)
Guest Instructor – Carleton University – Laws 2301: Criminal Justice System (2013)
Guest Instructor – Carleton University – Laws 4106: Law and Violence (2013)
Presenter – DCAO/CCLA Defence Lawyer Conference: Legislative Update (2013)
Guest Instructor – Ottawa University School of Law – The Law of Homicide (2013)
Guest Instructor – Queens University – Trial Advocacy (2013)
Presenter – DCAO/CCLA Defence Lawyer Conference –  Defence Hearsay (2012)
Guest Instructor – Ukraine Juvenile Justice Reform Project (UJJRP)  (2012)
Presenter – CLA Conference – R. v. Johnson (2011)
Presenter – DCAO/CCLA Defence Lawyer Conference –  R. v. Hamilton – Dispensing the requirement for technical expertise (2011)
Instructor – Ottawa University ARNUP Moot team (2010/2011/2012)
Guest Instructor – Criminal Trial advocacy (2009-2010)
Presenter – Ottawa University Criminal Law Student's Association (2008, 2009, 2010, 2011)
Presenter – DCAO/CCLA Defence Lawyer Conference – 2010 – Future of the YCJA
Instructor Ukraine Juvenile Justice Reform Project (UJJRP) – Delegation included: Director of Justice Legislation, Deputy Director of State Department, Supreme Court Judges, and other government officials (2010)
Instructor – Ottawa University Studies in Criminal Law: Criminal Justice Trial Advocacy (CML 4111C) – Cross-examinations (2010)