Does a Police Army Make Us Safer?
August 15, 2014
A Canadian Police officer – the new domestic army.
The fatal police shooting of an unarmed black youth in Ferguson, Missouri has – rightly – sparked outrage south of the border.
It has also caused some needed reflection on the role of the police.
In an excelled piece for The Intercept Glenn Greenwald linked the underreported issue of the militarization of local police forces to the tragedy in Ferguson.
Greenwald – a report who obviously does not shy from holding the state to account – observed:
The harrowing events of the last week in Ferguson, Missouri – the fatal police shooting of an unarmed African-American teenager, Mike Brown, and the blatantly excessive and thuggish response to ensuing community protests from a police force that resembles an occupying army – have shocked the U.S. media class and millions of Americans. But none of this is aberrational.It is the destructive by-product of several decades of deliberate militarization of American policing, a trend that received a sustained (and ongoing) steroid injection in the form of a still-flowing, post-9/11 federal funding bonanza, all justified in the name of "homeland security." This has resulted in a domestic police force that looks, thinks, and acts more like an invading and occupying military than a community-based force to protect the public.
The issue of the militarization of domestic law enforcement is not new – at lest to those concerned with civil rights.  In June the ACLU released a report on the issue entitles: War Comes Home – The Excessive Militarization of American Policing.
Is militarization of the police a good thing – does it make use safer? These issues have received little media attention – until now.
As pointed out by Michael Kempa on CBC's The Current – the problem of police militarization does not stop at the border – it is a Canadian problem too.
Unfortunately, even the current Canadian coverage of this issue tends towards minimization.  In an otherwise excellent article Post Media's Ashley Csanady wrote:
Police in Canada do have a different approach than their American counterparts and are far less likely to bust out the big guns or sound cannons — officially known as Long Range Acoustic Devices (LRADs). Most Canadian police employ a community-based model that dates to 19th-century England and Sir Robert Peel. The Ontario Association of Chiefs of Police (OACP) updated its community policing model in 2013 and it emphasizes de-escalation.
Sound cannons may be less likely but there can be no question Canadian police sometimes look more like post-apocalyptic military mercenaries than protectors of the peace – I would argue that this is a bad thing.
Why has there been an absence of critical reporting on law enforcement's acquisition of military toys?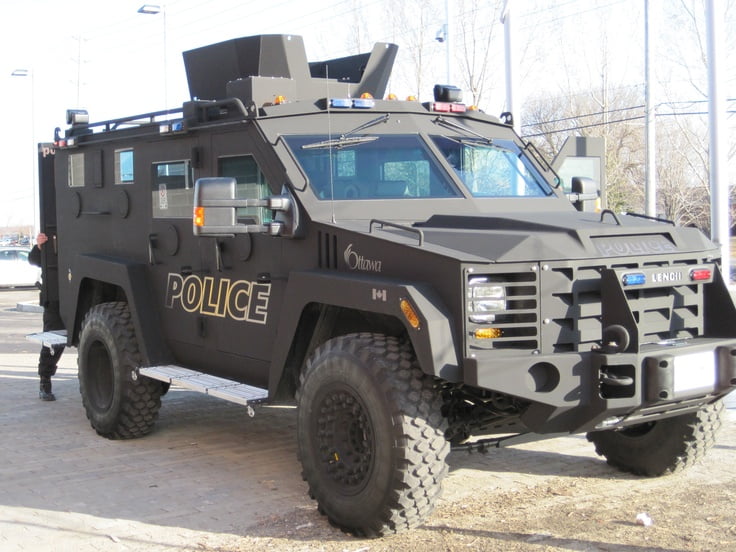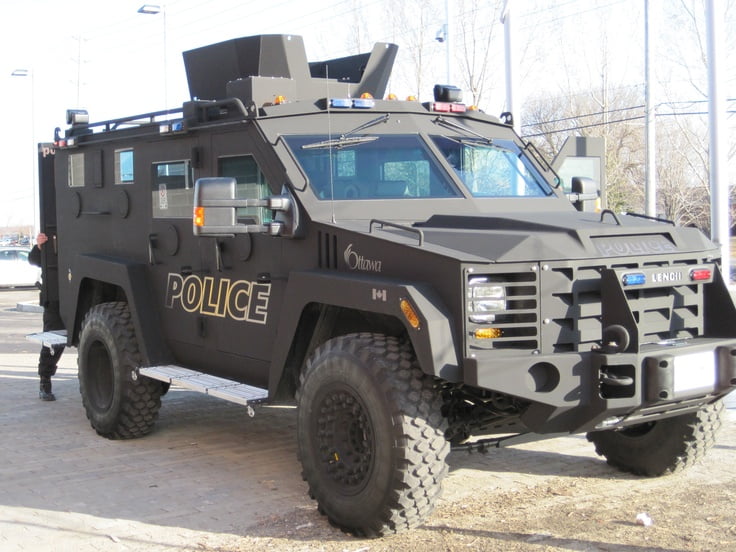 Ottawa Police's Lenco G3 BearCat
Let's look at a local example.
In 2010 the Ottawa Police Service bought a Lenco G3 BearCat – it cost $340,000.
The BearCat is equiped with half inch thick military steel armoured bodywork, .50 caliber rated ballistic glass, blast-resistant floors, specially designed gun ports, and roof hatches/turret – seriously a roof turret.
How did the police ever get by without this tank – Ottawa must have been in anarchy – hardly.
The CBC, CTV, and MetroNews reported the purchase – the police seemed proud of it – but no one asked if it was necessary.  No one asked if $340,000 could be better spent.
Those who question police and authority are often subjected to attack and there is often a knee jerk reaction to give police free reign.
This was the immediate reaction when I brought up the Ottawa Police's purchase of the military BearCat on twitter:
@mspratt @JudyTrinhCBC After Moncton I don't begrudge police any equipment they deem necessary. Ottawa a prime target 4 terrorism after all
— David Williams (@D_Dawg_W) August 15, 2014
There will always be exceptional tragedies that can be used to justified expanded police powers.
Sadly, a BearCat will not prevent the next Moncton – if only it was that easy.
This is the hard lesson that Ferguson is learning.  Just when the riots were at their worst and tensions at their highest the police changed tactics:
The heavy riot armour, the SWAT trucks with sniper posts, the hostile glares: tonight in Ferguson they were gone.A stunning change in tone radiated through the suburban streets where protests had turned violent each of the last four evenings following the police shooting of 18-year-old Michael Brown.
Bigger trucks, more guns, and more equipment may make us feel safer – but they don't make us safer.
That is the answer to the question – that until now – nobody has asked.