Behind the scenes of Doug Ford's Legal Aid Guarantee
October 29, 2019
It all started with a frantic phone call by Doug Ford to a Toronto radio station in defence of his government's cuts to the legal aid system. During that April 23 call, Ontario's Premier promised that, "if anyone needs support on legal aid, feel free to call my office. I will guarantee you that you will have legal aid."
New documents reveal the behind-the-scenes scramble by the Premier's inner circle to walk back Ford's stunning and unprecedented legal aid guarantee.
The morning following Ford's surprise announcement the Toronto Star's Queen's Park Bureau Chief, Robert Benzie, emailed Simon Jefferies, Ford's director of media relations, asking for details.
Benzie's questions were simple, "What's the budget for that new legal aid program [Ford] announced on AM640? Do Ontarians just call his office instead of contacting Legal Aid Ontario? Is there a cap on the new program?"
The answers to Benzie's questions were anything but simple.
Within minutes of the Toronto Star's inquiry, Jeffries, who has since left Ford's office to work for Andrew Scheer, fired off an email seeking input from long time Ford advisor and principle secretary Amin Massoudi, Ford's executive director of communications Laryssa Waler, and Ford's Deputy Director of Issues Management Cody Welton.
Minutes later, the hastily assembled crisis communications team had formulated thier response. Doug Ford misspoke. What the Premier meant to say was, "If anyone needs support on legal aid, feel free to call my office. You will – I will guarantee you that you will have access to the folks at legal aid Ontario."
The government's retconning of Ford's promise was absurd and simplistic. Ignore the plain and simple meaning of Ford's promise, they said, he only simply stating the status quo when he made his panicked phone call.
But the public was never told that Ford so badly misspoke that he had left the impression he was intruding on the independence of an arm's length organization. The public was never told that basic mastery of the English language and common meaning of words had eluded the Premier.
The reimagined Ford guarantee was only provided on "deep background" – a journalistic term that commonly means that the information was not to be included in any article, story, or reporting.
To this day, Ford has never publicly clarified his legal aid guarantee. In fact, he has doubled down on it, telling the Huffington Posts Emma Paling that he would, "try to help everyone and I'll continue to help anyone who calls."
In the days and weeks that followed, Ford was flooded with calls from people who had been denied legal, pleading to take him up on his guarantee. 
The new documents, released under what the government described as a "contentious" freedom of information request, paint a picture of desperation and include emails from the wife of a man with mental health issues who sent Ford a "Hail Mary plea" for assistance and correspondence from a single mother of four children, who was denied legal aid and wrote that she was "pleading with [Ford] to please help me with my legal aid issue, my children's well-being is on the line."
One desperate emailer wrote that he has "never asked my government for help, but I am asking you as you are for the people. I am not looking for a hand out just help with the lawyers' fees."
Another man, who was denied legal aid asked, "Is it now at the point where only the wealthy can file and afford a defense?"
There were letters from parents who were at risk of losing children, immigrants who faced deportation into danger, and impoverished self-represented accused who were staring down the barrel of lengthy jail sentences.
As the legal aid pleas piled up, Ari Laskin, Ford's Director of Strategy, was assigned the unenviable job of drafting a response.
It took some time, because Laskin was "really struggling with this on to be honest."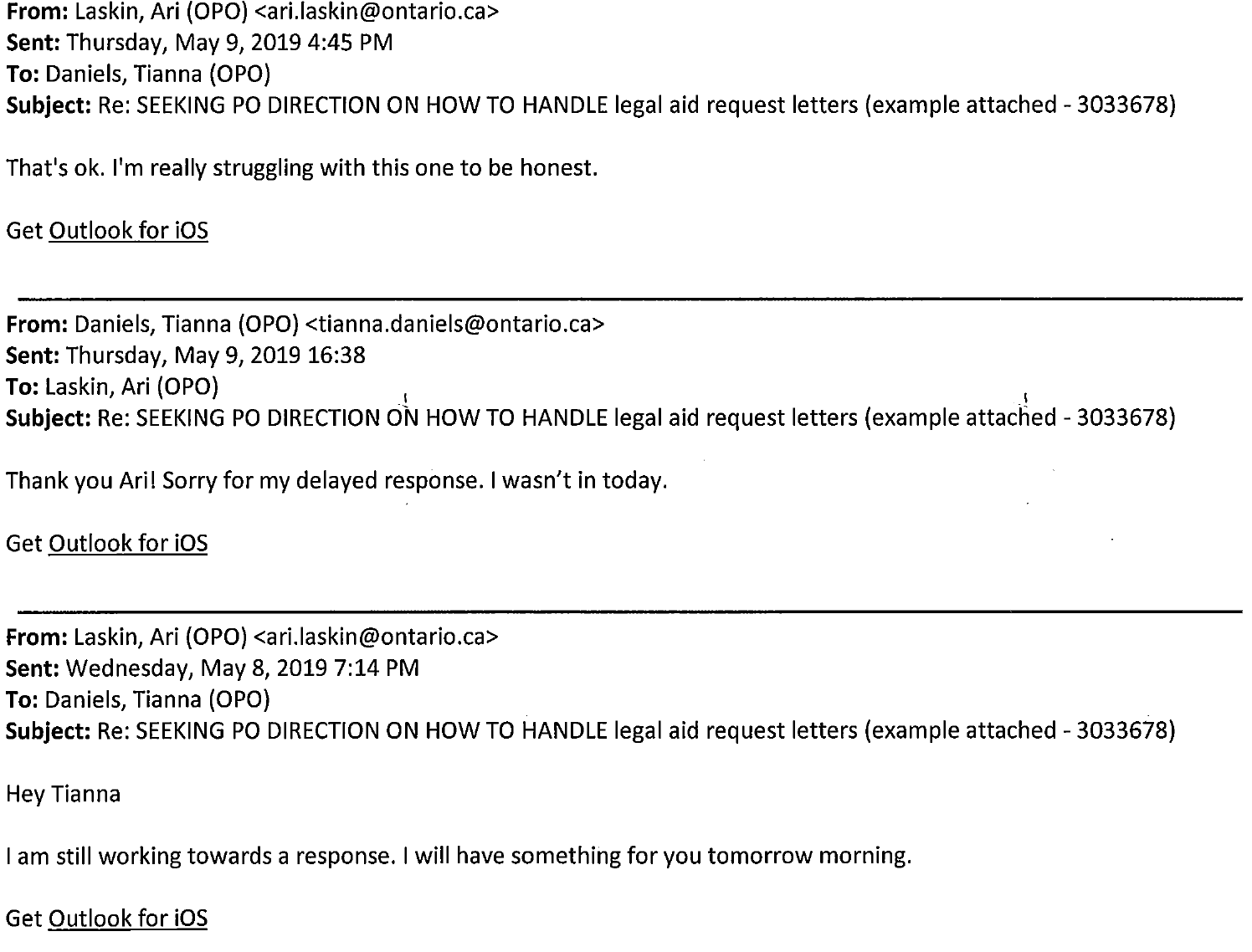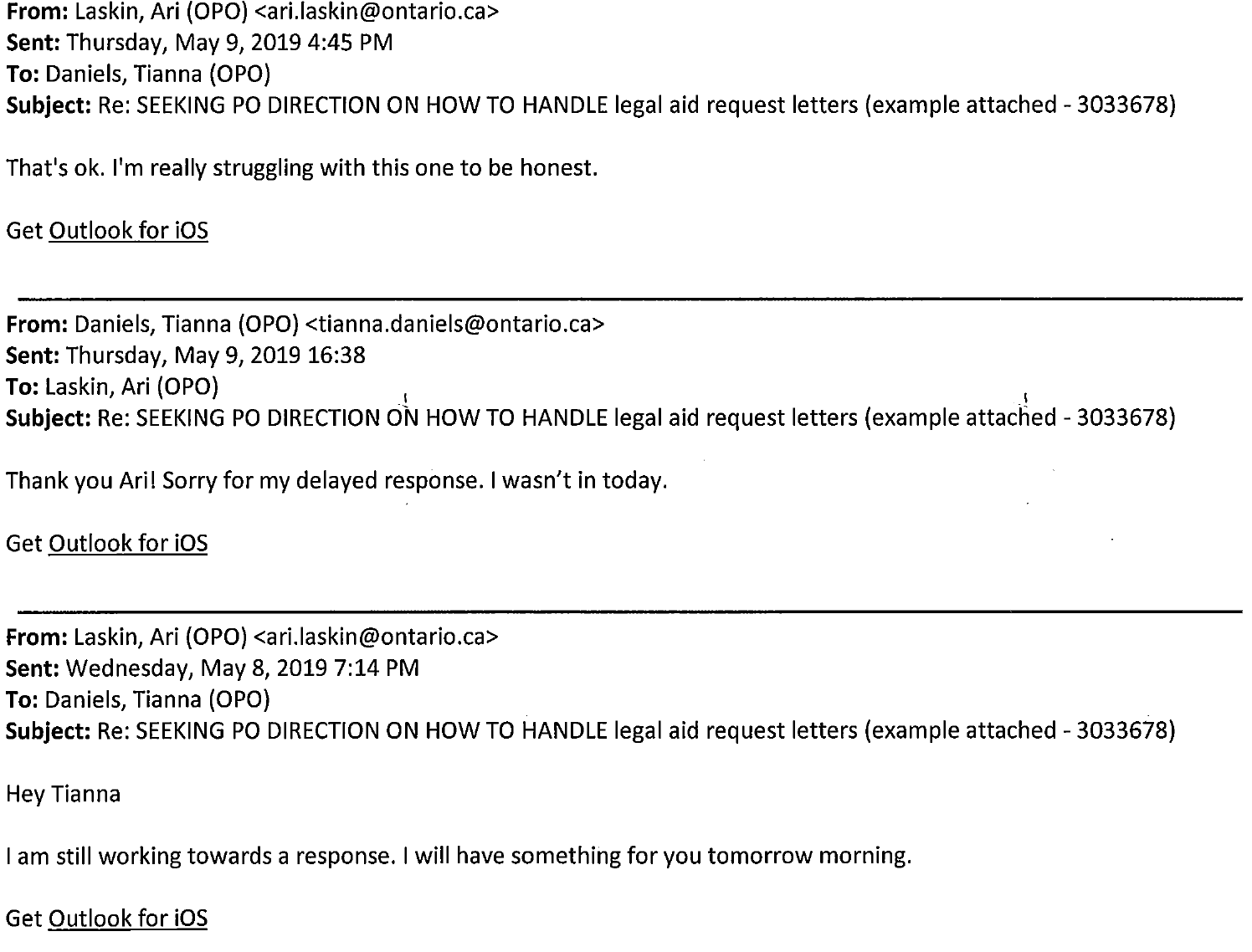 Laskin could have told the desperate petitioners that Ford misspoke. He could have told them that the Premier was working on a plan to implement his promise. Instead, the cold and cruel response to each desperate letter and email was that same:
Thanks for writing to me about legal aid funding. I appreciate hearing your views and concerns. 
As the issue you raised falls in the area of responsibility of the Honourable Caroline Mulroney, Attorney General, I've sent a copy of your correspondence to her. Minister Mulroney or a ministry staff member will respond to you as soon as possible. 
Thanks again for contacting me.
Doug Ford
Premier of Ontario
In the end Ford did not possess the integrity to admit he made a promise he could not act on. He did not admit that he misled the public to distract from his deep legal aid cuts. He did not look for a solution. He passed the buck.
Ford told people to write him and that he would help them. And when people did just that he responded that it was not his problem.
And it took a whole team to cover for him.
Premier Office FOI – Legal … by MichaelSpratt on Scribd